"Brian was an anchor of positivity for me during a very difficult and disorienting transition in my life. Working with him was deeply supportive as he saw a clear path for me & consistently held to that vision of success which eventually helped me discover it too! Not only is he fun & easy going, but he's also an action oriented person who sees your pure potential, helps you set goals, and expects you to succeed at them.
The results have been amazing. Since my personal sessions with Brian I am now making money doing impactful & meaningful work that I love. I am living in the place of my dreams and spend several months a year traveling the world. I've gotten into the best shape of my life and cultivated a new magical relationship with my true soulmate.
Brian's guidance, support, and laser-sharp perceptions got me here."
– A.K., Minneapolis, MN
————-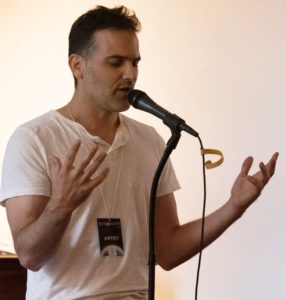 Coach, mentor, author, podcaster, healer, workshop facilitator, father, Brian Piergrossi is a beacon of light who has transformed the lives  of hundreds of thousands of people around the world over the past 13 years.
However, it wasn't always that way. At the age of 20 years old Brian was suddenly struck by a mysterious, debilitating illness, later labeled 'chronic fatigue syndrome', that lasted for over 10 years leaving him in intense, daily, physical pain and too weak to effectively function in society. When no medical or other authority figure could explain the suffering that was happening to him, Brian made it his life commitment to inquire into the root cause of human suffering & the core principles of vitality, achievement and fulfillment.
What began was over 11 years of quiet yet committed, serious inquiry, study and personal application into the fields of spirituality, religion, psychology, sociology, cosmology, ecology, health, arts, science, yoga, self-realization & personal development teachings. He read over 1000 books. He studied the teachings of the greatest mentors and teachers around the world at the time, including luminaries such as Eckhart Tolle, Byron Katie & Ken Wilber & Tony Robbins.
After an all night, soul-searching, walk in the rain, Brian quit his job, left his home in Northern California with the unrelenting sole intention of supporting individuals to transcend suffering and live the deepest dreams of their heart.
Since that time he has written two books that continue to inspire new readers worldwide.
He has worked online, and in person, with clients in every inhabited continent.
He has lead transformative retreats, classes and workshops internationally in over two dozen countries.
He has shared his message as a featured guest on numerous radio and television programs and podcasts globally.
He has lectured at colleges, schools, festivals, expos and conferences.
His online social media posts and blogs are shared with thousands of readers worldwide each day.
He founded The Big Glow Online Facebook Community with currently  over 6.000 members discovering how to be the best version of themselves.
Today Brian travels the world sharing his unique insights into the human condition. He and his partner Annie are based in Asheville, North Carolina.
"When the pillars of my limited mind collapsed, the roof caved in and I could take in the beauty of the stars."-Brian Piergrossi from the book The Wow of the Now
He can be reached directly at: thebigglow@gmail.com